iWEATHAR GRANDE
The iWeathar Edge 6+ is a simplistic self contained easy to install, low maintenance automated weather station for the cost conscious buyer.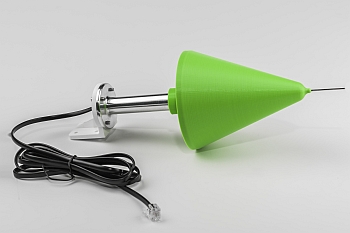 Features include:

Easy to install.

Highly Accurate Wind Readings.

Completely self sufficient.

Wind, temperature, humidity, rainfall and barometric sensors come standard.

Includes a Solar regulator.

Allows for up to 6 analogue sensors and 4 digital inputs to be connected.

Live GSM signal strength and Voltage monitoring.

Implements accurate digital temperature, humidity and pressure sensor.

Reverse polarity protected.

Ultra low power consumption at 50mA average.

Ideal for environment impact, construction site and home /light industry wind turbine assessments, the Grande allows up to two (2) anemometers to be connected for wind gradient measurements.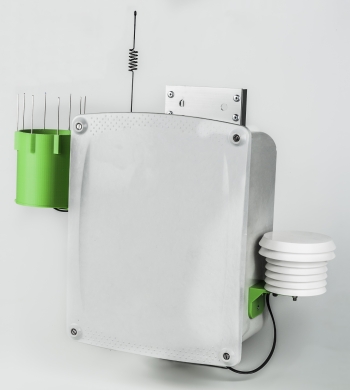 Standard Package Includes:

1. iWeathar Grande Module with built-in GSM modem.
2. 10 Watt Mono-crystalline Solar Panel and 3A regulator
3. 1 x Sealed Gel Battery 12V 7A
4. Wind anemometer and Vane (iWeathar WindBall)
5. Combined Digital Temperature and Humidity sensor
6. Attached Solar Radiation shield
7. Digital highly accurate Barometric Pressure sensor
8. Attached 0.3 mm 3D printed rain gauge
9. Accessories (Serial Cable, Wiring and Weather proof enclosure,U-Bolts etc.)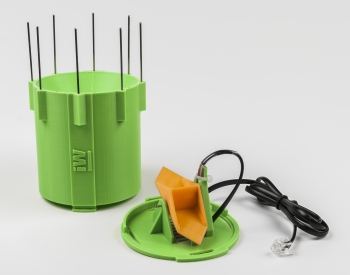 Annual Fee
iWeathar provides online software services allowing you access to your stations reports, graphs, settings, wind turbine assessment program, data analysis, agricultural programs, Fire Danger Index and much more for a monthly fee of R129, which is paid annually in advance and includes SIM card and data fees.

You require:
1. Mounting pole of 50mm diameter and 700mm length to attach the unit to. We highly recommend a good steady pole (avoids wind vibration which affects sensor readings and longevity) with grounded earth line. Pole should be higher than 2 meters from a roof or near-by structure.


Limits and Accuracy
Wind Speed
3 - 70 km/h
+/-5% accuracy
Humidity
0-100%
+/-2.0%RH
Temperature
-40 to 90°C
+/-0.3°C @25°C
Barometric Pressure *
150 - 1150mb
1.5% Maximum Error over 0° to 85°C
* Temperature compensated +/-40° to +125°C


Rain Gauge
0.36mm increments/h
+/-10% accuracy


Dimensions:
Enclosure H250 x W200 x D150mm
Solar Panel 10W: +- 310 x 400mm
All items include 50mm diameter pipe fixtures.

Specifications:
1. Power Consumption: 10 - 15 Volts < 100mA
2. Data inputs: 3 x RJ11 Ports, 2 of the ports for Wind and Rain Tipping bucket..
3. 200 Wind direction samples taken over 10 minutes (sample taken every 3 seconds).
4. Wind speeds sampled continuously.
5. Uploads data every 10 minutes to an online system at iWeathar for you to access.
6. iWeathar Module Grande all in one GSM unit.
7. Connects to Wind Anemometer via RJ11 which can be extended up to 20 meters.
8. Solar Panel (10 Watts, 17V-21V)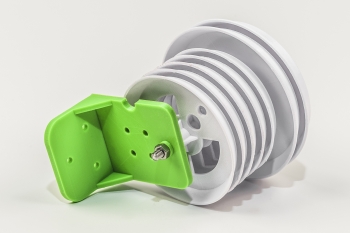 Each unit is guaranteed for up to 12 months from date of purchase. This excludes lightning damage and other drastic forces of nature (tornadoes, hurricanes etc.)

Please note that iWeather reserves the right to store and sell the weather data at our discretion should you and only when you make the weather data available to the public at large.

Due to the station connecting via 3rd party cellular service providers and low power-outs due to ongoing bad weather (lack of sunlight to the solar panel for over 280hrs), data loss may and can occur.

iWeathar does not take any responsibility for loss or damage to the stations data should this ever occur. An additional data logger is available for critical data applications.

Should you not wish to use the iWeathar networks reporting and graphing facilities, you are able to download the raw data in the standard comma delimited Excel CSV format for you to disseminate.

The iWeathar system calculates wind turbulence intensity from the standard deviation formula only from the final 10 minute maximum and average values and not on a continued sampled basis.

See live weather stations online HERE